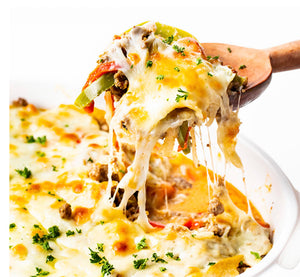 This delicious keto crock pot meal is made with ground beef, cream cheese, butter, provolone cheese, bacon, onions, peppers and seasonings. Frozen in gallon freezer bag to feed 4-6 people or quart freezer bag to feed 2-3. Thaw freezer meal overnight in frig, add contents of bag to crock pot cook on low 4 hours.
Serving Size: 1 breast
Calories: 323 / Carbohydrates: 4g /Protein: 34g / Fat:28g / Saturated Fat: 9g / Cholesterol: 115mg / Sodium: 761mg / Fiber:2g / Sugar: 1g / Potassium 661 mg
Due to supply chain issues, please allow 5-7 days when ordering.