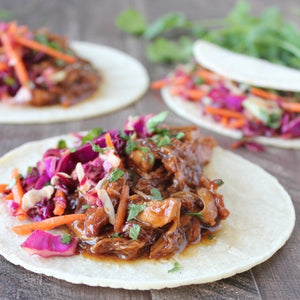 Made with chicken, onion, garlic, soy sauce, lemon, cabbage, carrots and seasonings. Frozen in gallon size to feed 4-6 people or quart size to feed 2-3. Thaw completely, pour contents of bag in crock pot 4 hours on low for family size and 2.5 hours on low for the small portion.
Calories: 357cal | Carbohydrates: 10.9g | Protein: 45.7g | Fat: 13.7g | Saturated Fat: 3.5g | Cholesterol: 135mg | Sodium: 502mg | Fiber: 2.5g | Sugar: 6.3g 
Due to supply chain issues, please allow 5-7 days when ordering.