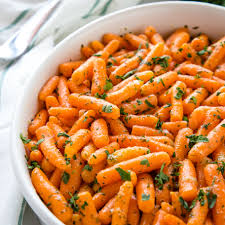 To make your meal complete, I have added Side Dishes!  These roasted carrots are made with fresh carrots, butter, seasoning and parsley.
Comes in a freezer pan. To prepare: Preheat oven to 375°. Place pan, uncovered, in oven and roast 25 minutes or until carrots are to desired tenderness.
Calories: 112 | Carbohydrates: 15g | Fat: 7g | Saturated Fat: 4g | Cholesterol: 20mg | Sodium: 165mg | Fiber: 3g | Sugar: 5g /  Carbohydrates: 10g Potassium: 300mg
Due to supply chain issues, please allow 5-7 days when ordering.